Cross Country is back: Will the Rams chase down a State victory?
Fall 2021 was a momentous season for the running rams. The boys team led by Coaches Baum, Deck and Penz, snagged a third place finish at the IHSA state meet. Led by Mac Kitrell with a 3 mile time of 15:22, the team achieved this monumental finish. With the return of 6 out of the 7 varsity runners, the boys landed a preseason ranking of first in the MileSplit rankings. With few injuries and setbacks, the boys are looking to have another killer season with the potential for a state championship.
Remarking on his final year here at DePaul College Prep, senior Owen Flom said, "I am so excited to race this year and to hopefully take home a win at state this year." With four seniors making up the varsity team, this is another chance for the close-knit group of boys to make history again.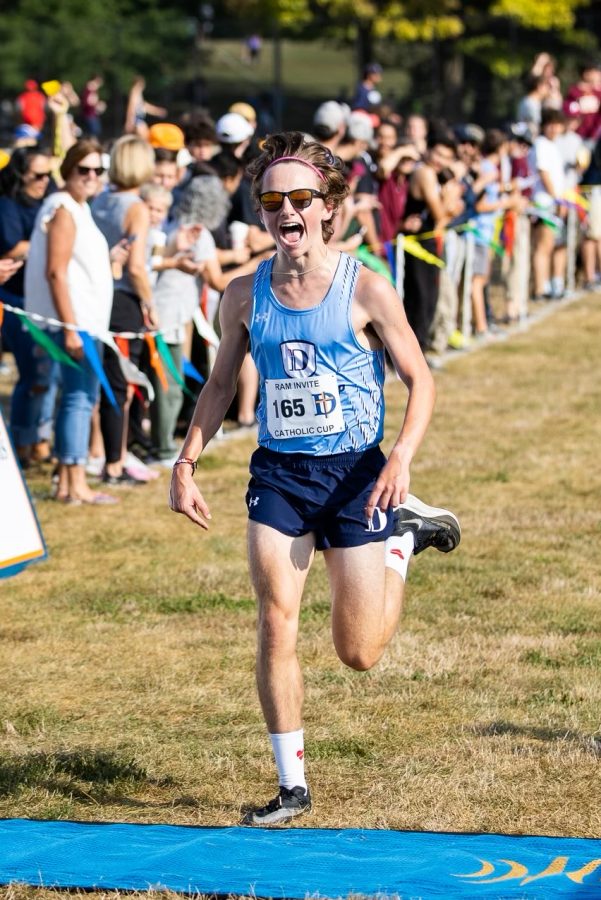 Not only did the boys succeed last season, the girls team did as well. For the first time in school history, the entire varsity girls team qualified to run at state. Led by Lorelei Travers with a time of 19:08, the girls all nearly subbed 20 and snagged 12th place down in Peoria. With no seniors last year, all 7 of the varsity girls have returned with the addition of some fast paced freshmen. The girls team ranked 3rd in the state for the preseason according to MileSplit.
The girls team had a bit of a rocky start when all three of their former coaches resigned from the position. Fortunately, former St. Benedict Prep coach, Stephanie Stecz, stepped up and agreed to the challenge. Under her expertise, the girls team is poised for a speedy season. Additionally, Gabi Walker has returned after being on injury leave last cross country season. Her return is valuable after her state ranking track season.
Walker remarked on the season saying, "I'm very excited for this season after a really good track season. I came back better than ever and our team is getting really strong. We have a strong top 5 and will continue to get better through post-season." Gabi is someone to watch who will play a big role in the success of the team this season.
With two meets under their belt and having completed the Richard Spring invite on September 17, the running rams have proven these preseason speculations to be true. Senior Mac Kitrell took an individual win at the home invite, aiding the boys team to a first place finish. The girls placed second at the home invite with a tight pack and lots of enthusiasm. It is looking to be an energizing season for the Cross Country team.