Football team creates brotherhood for new and returning players
Football games under the Friday night lights are something that every Ram looks forward to throughout the fall here at DePaul Prep. With the addition of new bleachers these football games can draw nearly 1,000 people each game.
With a record of 3-6 in this past season, the team was unable to make it to the playoffs but are hopeful to receive a second chance in 2023. With 8 all-conference players, the team had a very strong season even without making it to the playoffs.
Oliver Vigerust, Emmett Jeske, Lavelle Hardy, Danny Kelly, Henry West, Jonathan Perez, Shane Leonard, and Erik Timbo all received All-Conference designations. The team also finished the season as conference champions. 
Coach Gary Anish has found a second home in the DCP football program. He played when he was a student here and has now come back as a Kinetic Wellness teacher as well as the Defensive Coordinator for the team.
He remarks that he enjoys being able to "help build a program that I helped lay the foundation for when I was in high school. Because I was part of the first ever DCP football team, and it is very rewarding to be able to come back and do my part." His love for football that DCP gave him not only fueled him to come back and coach but also motivated to play college football at North Park University. 
Coach Anish's time at DePaul Prep prepared him for his time at North Park. He explained how DCP football prepared him for the difference that is college football.
"It set the expectations of what it was going to be like playing in college as far as being early, worth ethic… The only main difference was just skill level from high school to college. Everything else stays consistent." 
However, the football program when Coach Anish played is different from the football program now. With the new campus, field, coaches and players, the team has greatly evolved.
When speaking of the differences from when he played versus now, Coach Anish said the biggest difference is size. "When I was a student we had roughly 35 people playing total and now we're well over 100 in the program and that's a wonderful thing". 
With the growth of the program, new memories and accomplishments have been made throughout the past two seasons here at the new campus. When asked what his favorite memory was from this past season, Coach Anish said it was beating Leo.
"They were always rivals of us when I was in high school. And the way our players came together and fought for four quarters was great." He also remarked that he can't wait for another exciting season next year. 
The football program has been so inviting and exciting that senior Henry West decided to play for the first time this season. The football team has become a family to him and this was one of the reasons he decided to join the team.
"I get to hang out with my brother and best friend everyday," West said. The team creates bonds that only help make the team stronger when it is time to play. The bonds that have been created are so strong that West says the thing he will miss most is "getting the opportunity to hang out with my best friends everyday." 
Not only did West love football because of the friendships he made on the team, he also had a successful season athletically. For a first year player, he shined on the team and quickly claimed a starting spot as a wide receiver, scoring six touchdowns making him one of the leading scorers on the team.
West also was one of the eight players to receive an all-conference designation. His favorite part of the season was "scoring two touchdowns within a minute against Walter Payton."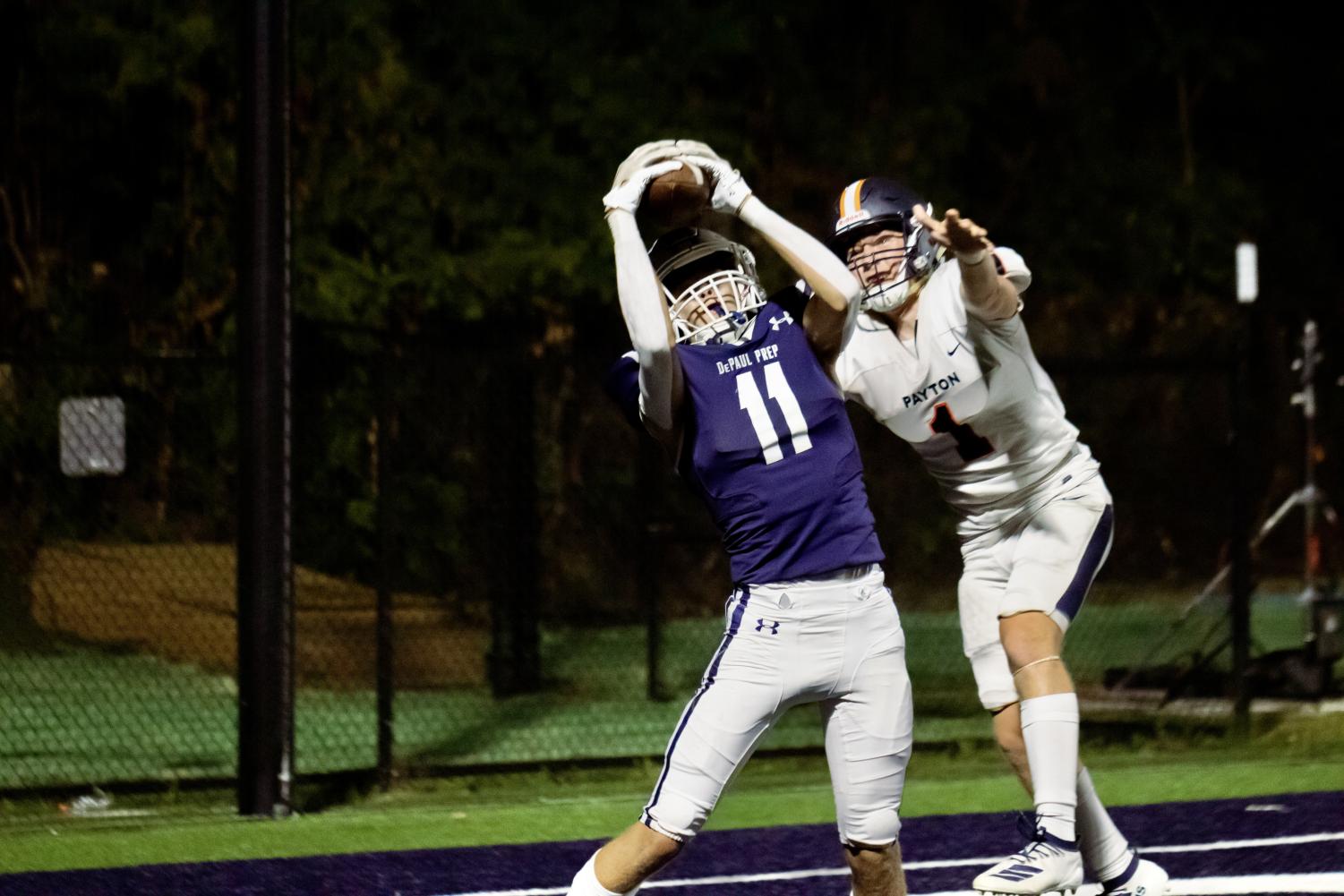 Griffin Horne, a junior starter on the football team who ended his season early due to an ACL tear, spoke fondly of his time so far on the DePaul prep team. When he got hurt he "felt very supported by everyone, from friends/teammates to all of the coaches. Multiple coaches reached out and kept in touch with me about my injury before and after surgery. Teammates constantly texted or called me to make sure I was okay."
Horne and other injured players continued to come to practice even after their injuries prohibited them from playing.
When asked what made him keep coming to practice Horne said, "the brotherhood that we created within the team. I felt that if one of my teammates got hurt I would still expect them to show up and still be a part of the team. So, I held myself to that standard to make sure I was still a part of the team even after I was injured and unable to play."