Groundbreaking ceremony celebrates start of South Wing construction
The new academic wing is set to open for the 2023-2024 school year.
Since the beginning of the school year, the South Lot has been obscured by construction fences with an occasional bulldozer or two. On October 24, DePaul Prep took a huge step to turn this land into a new asset: a new wing. Formally known as the south wing of the Mary A. Dempsey Academic Center, the addition will be finished by August 2023, says Amy Golden, Director of Institutional Advancement. 
Students who stayed after school attended the Groundbreaking, the ceremony that commemorated the beginning of construction. To the project's main architect, Rachel Cooper, this moment meant a great deal to her. "I think that it is great to build the excitement of what's coming. Just to be a part of it, especially for the students that got to come up here and throw some dirt. Every single student, faculty member, staff, professorial work has something to with this project. I think it is great to have this moment cemented in time."
Along with Cooper, this project is being overseen by Deborah Reick, the general superintendent. She spends a majority of her time on campus and is responsible for not only the renovations of the West Wing but also the construction of the stadium. 
But before the golden shovels were pulled out, a special prayer service was convened to bless and give thanks for this new addition to the school. The ceremony included remarks from Joe Haugh, the chair of the Board of Directors; Father Christopher Robinson, a Vincentian priest from DePaul University and DePaul Prep Board member; and DePaul Prep President Mary Dempsey. 
Regarding this groundbreaking ceremony, Dempsey referred to it as an important milestone and wanted to emphasize taking the time to give thanks. "[It's important] to say a few prayers to thank God and I give a lot of credit to the Blessed Mother for this."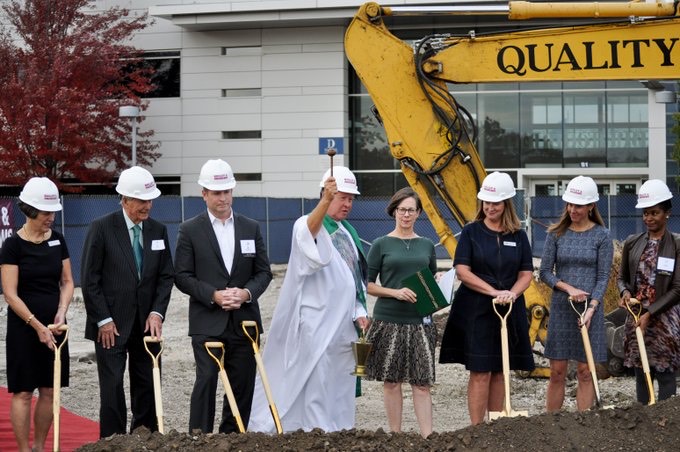 Golden remarked that these moments are very personal to Dempsey, who has led DePaul Prep's funding programs for years. "Ms. Dempsey has mapped out not only a strategic plan but a campus growth plan for years prior. Alongside that was the capital campaign, the One Dream All In campaign, that helps to fund specifically all our campus growth. The campaign's Pillars are academics, athletics, and endowment."
When this wing is finished it will include 19 classrooms, two science labs with a prep room, and another dining hall. It will be connected to the East Wing through a bridge with a courtyard in between. This extension of the school will positively affect the school community. "The board of directors and leadership team has discussed an ultimate goal that we will be around 1300 to 1400 students, which we feel is a good healthy number of us," confirmed Golden. The south wing, like Ms. Cooper stated, is a project that the entire DePaul community is involved in, which the entire community will soon benefit from. 
Corrections: A previous version of this article incorrectly named the south wing of the Mary A. Dempsey Academic Center as the "Mary A Dempsey wing" and incorrectly listed one of the One Dream All In's pillars as "athletes" instead of athletics.