Twins: The strongest connections at DePaul Prep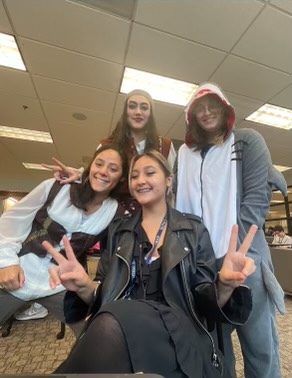 Have you ever walked through the hallways and seen doubles? Or two friends who looked oddly similar?
For multiple students this encounter has happened more than once, with DePaul Prep home to 37 pairs of twins.  
For many these similarities go beyond just looking alike. For Addi Pitcock she describes this as having a 'built-in best friend.' This friendship is important to her, especially when her twin sister enrolled at DePaul Prep.
"Haley came in as a transfer student. I really liked it because my first years of high school were during Covid it was hard not being with her because I'd always been at school with her my whole life." 
Mr. Cotto, a Kinetic Wellness teacher, expressed his own appreciation for having his twin by his side through his years in school.
"When we were deciding colleges early on we decided we're going to the same school. It was implied that we both wanted to be in the same school. As an adult looking back it is probably because you got that safety blanket, you got someone there that you know can support you and help you." 
 Not only does this bond apply to school life, but also on the field.
"I played football through college and she was a cheerleader through college." Knowing this, Mr. Cotto knew his sister would always be the first to cheer him on. "Throughout my whole athletic career my sister was on the side with me there." 
Addi and her twin are future teammates. "In the spring we both do lacrosse. This will be her first year doing lacrosse but she's done camps and stuff," she said.
Seniors Angelina and Gabriella Yoshimura share a similar athletic connection.
"We've both done martial arts since we were little. Our dad runs it, he runs a gym. We've done that together, we've failed multiple tests together, we also run: she does cross country and I do track. I hate running with her [because] I hate long distance."
Although not a personal fan of long distance, it is undeniable that it is a special experience in being together throughout multiple extracurricular activities. 
Still, being a twin comes with its own share of interesting and sometimes cringeworthy moments.
"People have asked me, genuinely asked me, 'Are you dating Gabriella?' That is my twin sister. It is the most awkward conversation to have with a stranger. It has happened one too many times," Angelina recounted. 
"People are finding out I have a twin at this school. People didn't even know I had a twin," Addi recalled. Similarly, sophomore Basil Frater, whose fraternal twin is a girl, has been asked multiple times if he is identical. 
Mr. Cotto pointed out the bond he shares with his sister, which emphasizes the unique friendship that two twins share. 
"Whether we acknowledge it or not there's a connection with someone we were born with."