Cross Country makes school history: Boys win State; girls finish second
This past 2022 season, the DePaul Prep Cross Country team made school history at the IHSA State Meet in Peoria, IL. The boys team took home a state championship trophy and the girls team took home a second place trophy. Both achievements mark school history — DePaul Prep's first ever state title and first ever 2nd place finish.
At the beginning of the season the boys received a number one preseason ranking that projected them to win the state meet. Senior Mac Kitrell has been monumental in the team's success. With improvement from freshman year, running a time of 17:31 to dropping to a senior PR of 15:16, he has gained the spot of number one runner on the team.
Kitrell said, "The coolest part of winning state was just the boys who ran standing by the finish waiting for the score to be finalized and when they announced that we had won we all started jumping up and down and screaming. That is something I won't forget."
The training plan for the team's journey to a state championship was rigorous. Training started in June doing summer conditioning for the boys team "which was basically getting a good aerobic base to give us a good start to our season but once school started we really started to get into the thick of training with for a lot of us running 6 or 7 days a week and running about 40-50 miles a week."
Kitrell explained that the hardest part of this was "putting all of the pieces together on the day because throughout the season we all had good races but almost never had a good race on the same day. It just happened that at state we all had a good race on the same day."
Using the leadership of Coach Baum, Coach Deck, and Coach Penz, the team watched all their hard work through the season pay off during a very emotional moment at Detweiller Park in Peoria.
Kitrell said his favorite part about this past season was ""the build up to state because we all knew what we had to do and we all were just excited to show everyone that we deserved to have that preseason ranking of 1st and that it was not just a fluke."
Coach Noah Deck coahces the boys cross country team and the track mid-distance team. He has ran his whole life and even ran D1 at DePaul University. He has created strong bonds with the runners and played a pivotal role in their success.
Coach Deck's coaching style is rooted in his past running experience. When reflecting on how his time coaching at DePaul University ties into his coaching experience now, Deck remembers how he learned a lot from his coaches at DePaul.
"I always had the benefit of being trained at every distance. Having that knowledge of every distance and being able to know people at each distance helped influence my coaching today."
He said having a sense of trust with the other DePaul alumni coaches has helped strengthen the DePaul Prep coaching method.
This past season came with a hard fought struggle. The boys team went through many obstacles to get to a state championship. For Deck, the hardest part of the journey to state was Sectionals.
"There were a few times throughout the season where I doubted what we could do and that hit hard at Sectionals. Even though we didn't run one of our top five runners, we got wrecked by schools that usually are a huge competition for us and that made me think that we might not podium at state."
The foundation the boys team built, however, through training and hard work, helped them get the success they had. When asked about the training plan, Deck remarked that he "wouldn't change anything. Baum, Penz, and I have good communication on what we should do and when we should do it. If anything I would just get younger guys to be more confident and start hitting faster times." 
Going into next year, the training plan will stay consistent except with a focus on "making it to state and showing IHSA that we are not just a team with a bunch of strong seniors. We have depth too."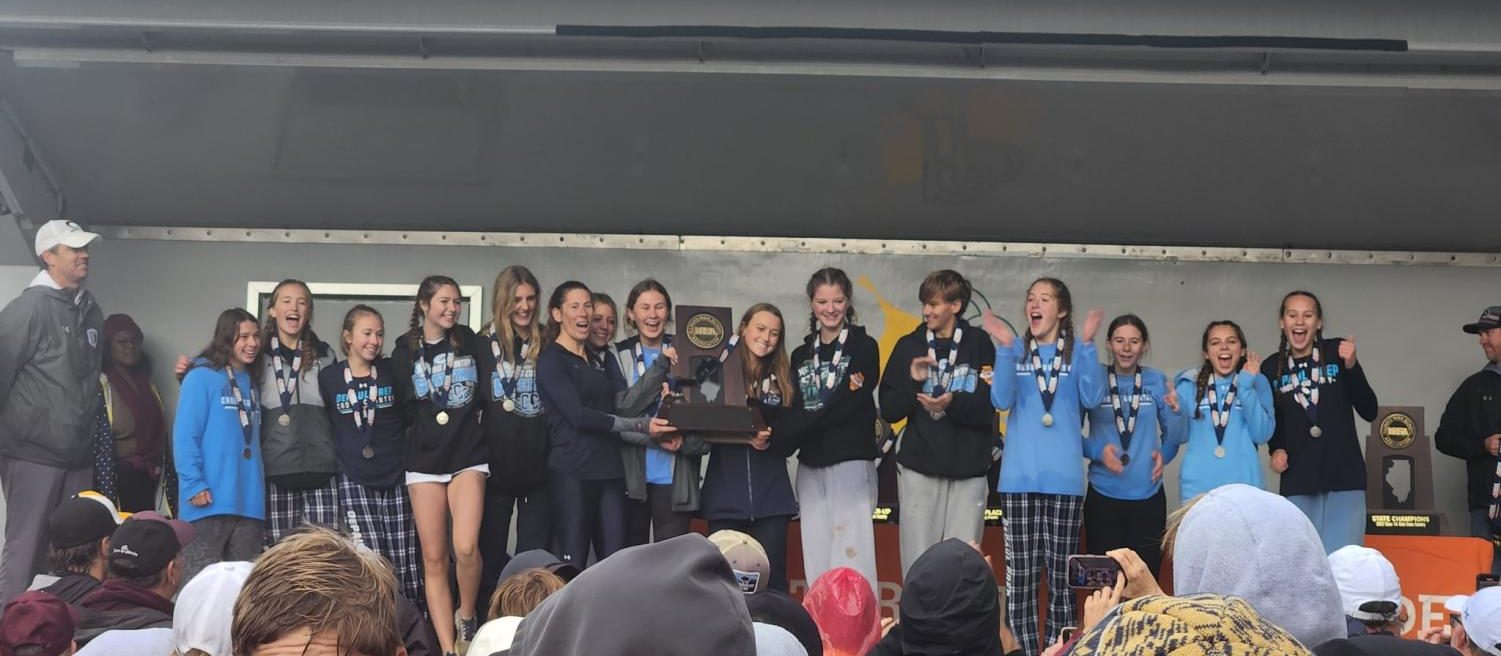 The girls team also had a successful State meet, placing 2nd and bringing home an additional trophy for DePaul Prep. With one runner subbing the 19 minute mark and all seven varsity runners subbing the 20 minute mark, the girls team had its most successful season in school history.
Sophomore Lorelei Travers has maintained her spot on varsity the past two seasons. The sophomore runner finished in first place for the team both years. Travers has worked hard throughout middle school and these high school years to gain this success.
"A typical week of training leading up to state was tapering, where we would go easier but still keep our training up. We mostly did long runs at an easy pace," said Travers. 
With intensive training comes hardships as well, but the girls team persevered through these hardships.
"The hardest part of the season was when we ran 10 miles. It was very mentally challenging and physically challenging because of how long it was and the pace," remarked Travers. 
However, through the intense training and hard practices, the team still found moments of joy in their season. Despite the stigma that running is "boring" the girls still had lots of fun during the season.
"My favorite part of the season was either the meets or the theme day practices. It was so fun cheering everyone on and getting to dress up. No other sports do theme days and it really makes the team feel really close" said Travers. Unique things like this are what helped the team get to such a high competition level.
The girls team is moving up to the 2A division in the 2023 season, a more competitive division where times get faster and placing becomes more difficult.
"Next season I am excited for hopefully getting on the podium for state and PR's. Coach Stecz really knows how to push us to do our best and if we get faster we have a better chance to be on the podium for 2a state" said Travers.
Despite the upcoming challenge, Travers feels comfortable with their foundation the team has built to have a successful season next year.