Both basketball teams gear up for playoffs
This year the DePaul College Prep basketball teams have had great strides within their seasons. With players injured and new players getting acclimated to the teams, the teams have shown great capability and confidence. 
With the playoffs approaching and the regular season coming to a close, the coaches on both the varsity girls teams and boys team have shown nothing but love for the players, Coach Kleinschmidt, Varsity Boys Basketball Coach here at DePaul Prep, adding that the boys have matured both physically and mentally: "Their IQ for the game is much higher." 
Coach Zarymbski, Varsity Girls Basketball Coach here at DePaul Prep, mentions some of the same ideas. With new players comes a slight feeling of uncomfortableness; but over time their chemistry has flourished. This is seen both on and off the court.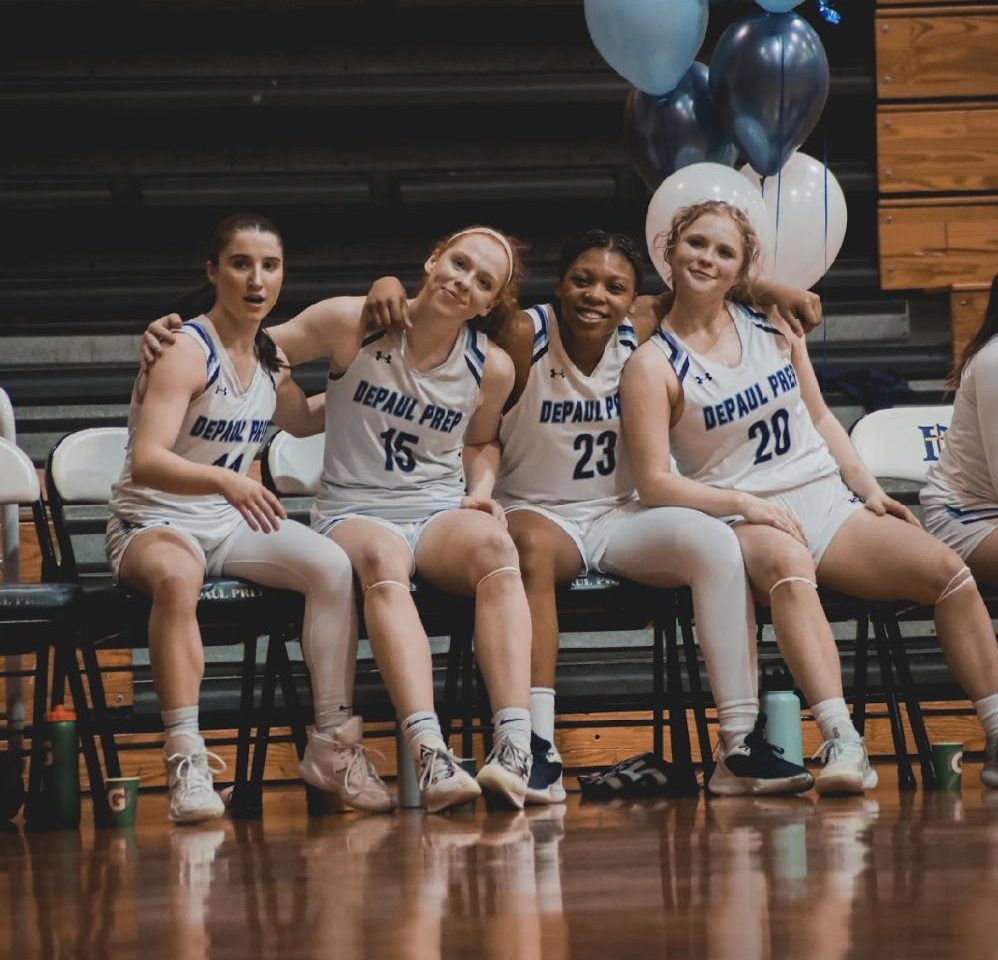 Players from both the Girls Varsity team, Kasey Galloway, and the Boys Varsity team, Jaylen McElroy, felt that sense of community and family over the course of this season as well.
McElroy states how throughout the season he has seen his teammates form a bond, even without him and others who were out for most of the season, "as the season went on they got more mature as individuals." 
Both Galloway and McElroy mention how they have grown into a leadership role. Kasey adds, "I have seen the team grow especially with confidence because a lot of people were tentative before they started. Once everyone got into their groove you could tell that people were actually working really hard behind the scenes." 
She comments that with this new level of confidence comes more enjoyment, not only in games but during practice as well. 
This confidence comes from both the players and the coaches. When asked how their coaches inspired them, both players added that their coaches are always supportive. 
Galloway explained how Zarymbski "can tell when players are in their heads. When the games are close she always reminds us to stick with it until the end." 
McElroy alluded to the ways that Kleinschmidt is like a father figure to him, always there for him and even treating him like a son. 
When the coaches were asked how their coaching style influences their players, both mention how feedback is important and that their players are confident enough to handle both compliments and criticism. 
Zarymbski adds, "I'm a big listener, I trust the girls on the team enough where if they say something isn't working; then I let them try a new way. Sometimes they even prove me wrong." 
Kleinschmidt mentions how he doesn't really leave any gray areas when it comes to feedback. "I think they know exactly where they stand, I have no problem telling them how great they are when their doing something great and I have to be direct with them when they do make a mistake; and I think they really appreciate that." 
With the playoffs coming up, there are always nerves. Both coaches speak of their confidence concerning their players, Kleinschmidt making a point to mention how when players truly buy into their roles, that is when you see the most success. 
Zarymbski adds how each of their players have a pretty good scoring average and overall they mesh really well. 
Both McElroy and Galloway mention how both of their records throughout the season have been sufficient, but there is still a lot to learn.  
When it comes to next year, both coaches mentioned how they are excited for experienced players to extend their leadership role and for new players to join; but it's tough to let their beloved seniors go. 
Kleinschmidt says, "The hardest two days for a coach within the season is cutting a kid and telling your seniors goodbye at the end of the season." 
He has formed a bond not only with the individual players, but their families as well. He has known some of them since 5th and 6th grade and seeing them moving on to the next step is bittersweet.
"Hopefully they can say when they leave here that they have had a good experience both on and off the court." 
Finally, Zarymbski adds how her seniors have been impactful, not only when they play but also through their leadership roles. 
"They've left their mark on the younger ones and I am confident that the juniors have learned enough from them to pick up right where they left off. We will definitely miss those too, but they've definitely left their mark; in a good way."