Chess Team grows in second year of competition
From "The Queen Gambit's" to twitch tournaments, the chess world has exploded over the past two years. Chess.com recorded 17 million active users in April, a 212.5% increase from 2020. 
DePaul College Prep has felt the effects of this explosion with the creation of a chess team. Previously, students met after school for Chess Club to challenge each other in friendly games, but last year club moderator Paul Sheldon, a DePaul Prep English teacher, took the next step. 
"Last year Senior Saines and I decided 'Hey some of these kids actually want to compete,'" Sheldon stated. 
"So I looked into what it would take to start a chess team and I made contact with the head of the Chicago Chess Conference who is the chess coach at St. Ignatius. He said there is a conference of private schools in Chicago where they have a season where they play eight to ten matches." 
Those who wanted to compete began their season, competing against schools such as St. Rita, Ignatius, and Leo, across the city weekly. 
Team Captain Ethan Li is well-accustomed to the time put into these competitions. "If it's a regular Tuesday afternoon tournament it can take two hours. On Saturdays, we had tournaments from 7:15 a.m. to 7:00 p.m., which is a really long time. It's four rounds, four two hour rounds." 
At tournaments, players are each assigned to a board, placed uniformly on one side of the wall. The players play on boards based on their chess ability, with the strongest players on the top boards. The top eight teams can earn team points while the boards below board eight earn individual points. Sophomore Kevin Petrunyak states, "The bottom boards are worth the least points and the top [boards] are for the most points." 
Players are placed strategically to certain boards to maximize the teams' opportunity to score high. This is a chief responsibility of team captains such as Li. "I decide who's in the top eight. Sometimes I ultimately decide what the strategy is. Do we want to play our best player somewhere that's not [board] one because the [other board] one guy is really strong?"
When choosing captains, a player's chess ability and leadership qualities are examined. Reflecting on how he chose this year's captains, Sheldon remarked on their dedication. "They showed leadership in that prior year: they were attending every event and being the ones who would volunteer, [to say] 'Ok I'll make sure everyone was here at 7:15 a.m. for the bus.'" 
In addition, chess captains give assistance to other players during practice time, which is split primarily into two parts. Coach Sheldon and Assistant Coach Ulises Ortiz devote the first part to a lesson on strengthening a technique. "We have ten minutes of focused instruction on one particular strategy. One day we might do opening strategies — Or we might have a puzzle like all you have is a king and a queen and the other side has a king, put them in checkmate." 
During the second half, members compete intramurally and work to apply these new skills. "We go over lessons on Chess.com, there are courses on there. After that we try to use the concept while playing a game." Petrunyak states. Like the rest of the team, he uses chess.com as a tool to sharpen his abilities. "Chess.com is a website where you can do an analysis of your game, where the computer tells you what moves you did really well – blunders and great moves." 
These practices help players build the skills they will utilize throughout the season especially on the road to state. A testament to this is the progression the team saw over the past year as Li recalls. "The season went a lot better than last season. Last season out of nine teams, they finished eight. This season we finished fifth which is a huge improvement."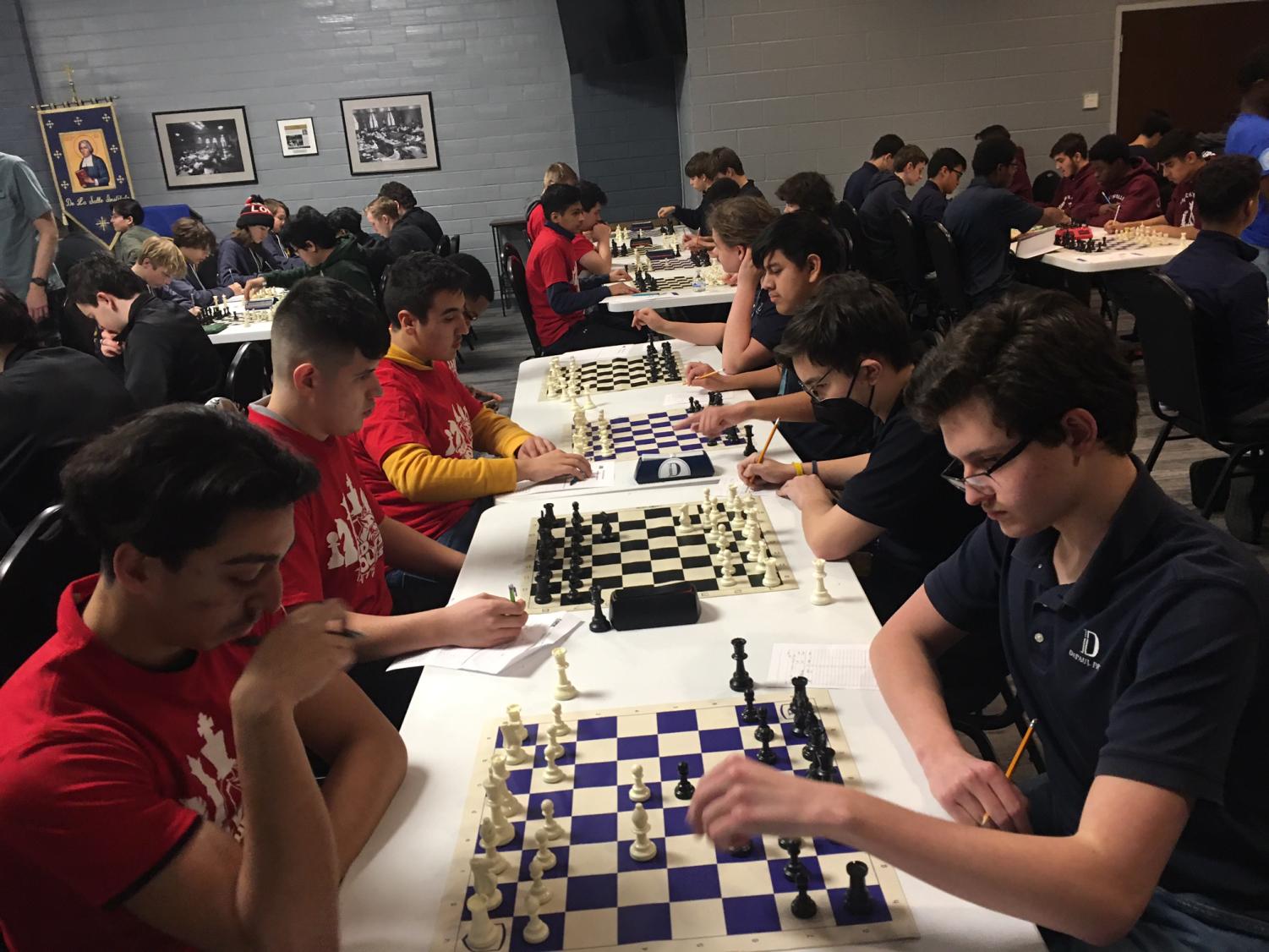 Though they didn't make it to state, this was the first year the team reached the Sectionals, one match away from state, leaving Sheldon hopeful for the future. "We did really well in our season. We went four-four in our conference matches, we went even at our first tournament performances. We had a couple of bad pairings in sectional. Unfortunately the tournament started where we had to play the top team in Chicago. That was a difficult hurdle to get past, with a pairing that wasn't so severe I'm pretty sure we could have advanced this year." 
Advancement for the team would mean they would be a part of 128 teams competing at state, where they would compete over two days and seven rounds. 
As the season slows, players still have a lot to learn with Petrunyak wanting to focus on mid-game strategies. "Our chess openings are on point but the mid game is a problem for us because sometimes we have tunnel vision and we lose a lot of pieces in an instant. [The] End game we got pretty much down." 
For Sheldon, the best way for a player to improve is to understand when it is necessary to do so. "Mainly it's the idea where you have to know when you reach a plateau in your game. The ability to say I need to learn a new skill that takes me to a new plateau, so being able to identify when you reached the limit of our ability and taking that to the next step to develop that." 
Regardless of team goals and state aspirations, Sheldon works to put the enjoyment of chess among his players before all else. "The ultimate goal is that they develop a love of the game and continue to play it throughout their lives." He hopes more students interested in chess find their own way to enjoy the game in the future. 
"I'd encourage anyone who enjoys the game to not be put off by the idea that we have a team and just remember we have a chess club."